Gefken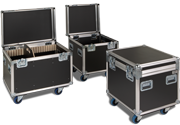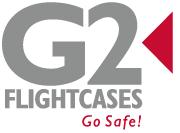 Whether you need perfect packaging for medical devices, cold storage for a product, support for a personal presentation, or want to display your corporate ID in full colour, Gefken can make it happen. We can provide cases with anything from a simple foam interior to an integrated GPS tracking system. Ask for details.
GEFKEN Cases. Custom-made carry cases, flight cases and portfolios.
GEFKEN Cases, based in The Netherlands and England, has specialised in producing custom-made carry cases, flightcases and portfolios since 1959. It has grown to become a specialist in its field, from conception through to production. Like you, Gefken likes seeing problems turned into solutions. That's why we design and produce our carry cases, flight cases and portfolios ourselves. Our state-of-the-art production line enables us to offer solutions tailored to your exact needs.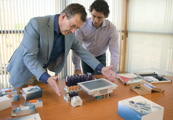 Come and have a chat with our designers. You'll be surprised at what they can come up with. Interested? Make an appointment.
Gefken. Innovation on the move.
Gefken's cases make your work easier and more efficient. Having a laptop, printer or other device built into a Gefken case can increase staff productivity while on location, for example. We can equip a case with connections for mains electricity or with USB ports for external devices. At Gefken we like to work with customers to come up with the perfect solution to suit your way of working. Whatever the sector, and however challenging your on-site conditions, we can help you.
Modern, flexible production line
At Gefken, we think in terms of solutions. And not just by making carry cases, flight cases and portfolios. Maybe you're looking for a modern production line capable of sawing, routing (CNC), laminating or bonding. Maybe you need a combination of all those techniques. Whatever your needs, Gefken will be pleased to help.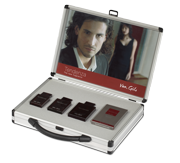 Custom-made interiors
We can design, produce and integrate interiors using foam, aluminium, plastic and other materials. Whatever we do, we always aim to provide the very best. Ask for details.