Gefken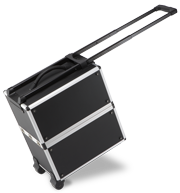 Example of a case featuring an extendable handle and wheels, making the case easy to move around.

The interior of your case can be tailored to your requirements.
Gefken cases: Unusually distinctive.
Our cases are based on anodised aluminium frames, which we can adjust to almost any length. That means we can create a case for you in just about any format. The custom-made frames are the skeletons for lightweight but strong sheet material. This robust material can be printed using a synthetic film, HPL or full-colour prints. We can also produce an entirely transparent case using clear acrylic. We can then customise the exterior and/or interior to match the style of your company, through prints, engraving or any other available technique.

> Office
> Presentation
> Mobility Solutions
> Packaging
Unlimited options.
There are endless options for fittings on cases. You can opt for key-based locks or combination locks. There's also a range of hinges to choose from. And whether you'd like an attractive black plastic handle or an exclusive anodised aluminium handle it is entirely up to you. For added convenience you might like an extendable handle and wheels so you can move the case around easily. The options are virtually unlimited, and we'll be pleased to help you choose.
Interiors: The choice is yours.
The interior of your cases is entirely up to you. Your options range from removable trays allowing your products to be well displayed, to an aluminium interior allowing for your electronic devices to be installed. Gefken also has expert knowledge of how to use foam, plastic, wood and other materials to customise your interior.


Example of a case featuring built-in electrical connections.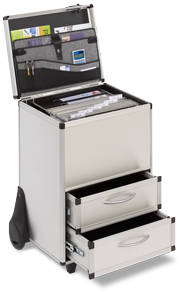 Wheels, drawers and interiors can all be customised.