Gefken

Experience and innovation
Gefken's years of experience in bonding aluminium profiles to sheet materials has led to an innovation in its flight cases. Working with the Delft University of Technology, we developed a style of bonding that delivers an average of 22% extra strength compared to a flight case, which uses a blind rivet every 10cm to create the bond (see graphic).

Gefken G2 Flightcases. Innovative generation of strong custom-made products
Whatever sector you work in - events, film, live music tours, or transporting medical equipment - you want to be sure that your equipment stays in the best possible condition. And you want that expensive equipment to be transported as efficiently as possible. Gefken's G2 flightcases are the perfect solution. The flightcases, developed in cooperation with the Delft University of Technology,

consist of a framework of strong aluminium profiles with bonded sheet material.
The G2 flightcases can be equipped with built-in locks, hinges and handles. Of course, they can also feature steel ball corners, stacking corners and flat corners, and swivel, braking or fixed castors.


The interiors are also designed and produced by us, with materials including wood, aluminium, foam or plastic.
We can even equip your flightcase with a GPS system so you always know where your valuable cargo is at any time. Custom-made innovation, all in one.
You'll be surprised at how good our solutions can be. Get in touch for more details or dowload the folder Gefken G2-Flightcases.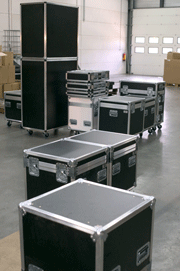 Gefken can advise you on how to determine the dimensions of your flightcases to enable you to optimise the loading of your delivery van, lorry or aeroplane.
Feel free to ask for more details.