Portfolios
If you're looking for a slim, attractive packaging for your products, Gefken portfolios are the ultimate solution. The aluminium profiles used by the portfolios match those of our cases, opening up a range of options.
The portfolios can of course be equipped with a useful handle. Interiors can be custom made to your specifications. Features can include elastic bands to secure your files,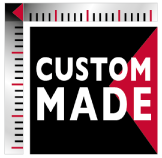 ring binding for papers and index cards, a useful clip to secure a notepad, or a foam interior to secure products. Anything is possible.
Get in touch for more details.