FAQ
Do you offer standard cases?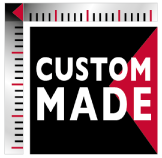 No. All of our products are custom made for you. We do have common recommended formats such as a small case for A4 documents and a G2 flightcase cable case.
Can you email us a price list?
As we don't supply standard items, we also don't have a price list. All of our products are custom made. Because of that, the price per item will depend on the size of the order, the item dimensions, the interior, the finishes, the printing, etc.
What is your standard delivery time?
We can usually deliver items within around 4 to 5 weeks of receiving written orders. If you need your cases more quickly, we'll be happy to discuss the options with you.
We only need a single item, or just a small collection of carrying cases, portfolios or flightcases. Can we still place an order with you?
Absolutely. We're happy to supply even a single item.
We need more than 100 custom-made cases within a few days. Can you do that?
We certainly can. Get in touch to discuss your options.
We need more than 1,000 cases. Can you produce that many?
No problem. Thanks to our hard-working staff, our modern production line and our unique production process, we're capable of producing several thousand cases in a short space of time.
Where are your products made?
All of our products are made in our factory in the Netherlands (The Hague).
Do you sell suitcases?
We do not design, produce or sell suitcases.
My case is broken. Can you fix it?
We can only repair carry cases, portfolios and flightcases made by our own factory. If you're not sure whether or not your product was made by us, just get in touch.
Do your carry cases, portfolios and flightcases come with a guarantee?
Naturally, our products are all guaranteed. You automatically have a 1 year guarantee on faulty items, but we continue to offer excellent service beyond that. Our terms and conditions are available on request.