Kofferfabriek Gefken offers a perfect fit.
Gefken, which has its head office and a production facility in The Hague (the Netherlands) and runs a sales office near Birmingham (England), specialises in the production of custom-made carry cases, flightcases and portfolios. From the time of our launch in 1959, we've always carried out the design and production of our cases and presentation materials ourselves. Keeping our design and production departments in-house ensures we can come up with creative solutions. Our modern production line and clear vision for the future gives Gefken a strong market position. Our cases are used for promotional activities, in the medical industry, and to enable modern,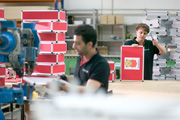 flexible ways of working. Gefken can deliver a custom-made solution to any demand. Just ask.
Gefken shows you the way.
Launching an unusual product? Looking to boost a sales pitch with an eye-catching display? Or perhaps you need to transport some expensive and fragile equipment? Whatever your needs, Gefken can draw on years of experience to deliver the perfect solution. With our own in-house design department, Gefken is able to develop complex solutions for your packaging, presentation and other needs. Once designed, we can turn those solutions into actual products in our own factory. We offer quality, flexibility and speed, and we always focus on your needs. As long as it's commercially and technically feasible, we can ensure you receive the very best.
Gefken: an international player.
Alongside our headquarters and production site in The Hague, the Netherlands, we also have a sales office near Birmingham in the UK. Gefken delivers projects from these two sites throughout Europe, the US and Canada.

Gefken works sustainably.
Gefken is keenly aware of its role in society. We believe that innovative solutions can deliver a better future.
For instance, we're working with specialised partner companies to deliver a carry case with integrated solar technology. This will be useful for the sustainable recharging of equipment during use or transportation. Because we value sustainability, we're a member of the corporate social responsibility organisation MVO Nederland, and you can also find us on Allesduurzaam.nl, a Dutch portal for sustainable products and services.